INCLUSION – A welcoming society.
There can be a place for people with intellectual disabilities, not in institutions, but in local communities. This approach is starting to be implemented as an ideal model in Japan.
In a community called Colony Unzen in Nagasaki prefecture, people with intellectual disabilities are living, not in a fancy concrete institution, but independently, in residential homes, with the support of professionals and neighbors. The main characters of this film, members of the ZUIHOU TAIKO drumming team, all live in the community. Although all the members started drumming as rehabilitation, they became a professional a drumming team through dedication and constant practice.
The drummers' shared dream is to compete professionally and Jishoya Ichiro, the world-class taiko drummer, responds by composing an original piece for them. Under Jishoya's professional direction, the members give their all, mastering the challenging composition. The film charts their gradual command of the composition, Zenshin-daha (which translates as making gradual progress by pounding away at prejudice), while portraying their daily lives. The group's leader, Iwamoto, is a 34 year-old man who married six years ago and is raising a four year-old boy with his wife. Even recently, most people considered it unthinkable for an intellectually disabled person to have a family and raise children. But there is a gradual shift away from the idea that they are happiest in institutions, towards the idea that they can live on their own in local communities. Through many years of struggle, they have earned the right "to live normally," in Colony Unzen.
As the members of Zuiho Taiko, their families and loved ones, even a mother who once institutionalized her son, reveal the paths of their lives to the camera, they appear more touching and powerful than any fictional story, and lead us to a world of INCLUSION.
The bonds formed among the drummers by "living a normal life in a community regardless of disabilities," and most of all their closing performance, will move you to tears and applause. Please listen to the sounds of drumming from the bottom of their hearts.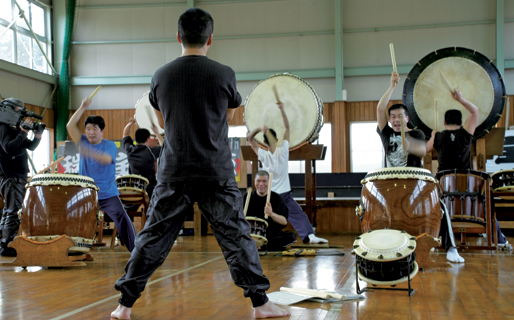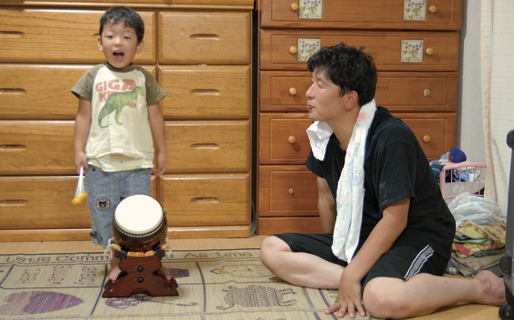 International Family Film Festival
Highest Honors by Ministry of Education, Culture, Sports, Science and Technology Cultural Materials of Child Welfare Recommended by Social Security Council
◎Excutive Producer:Kayoko Hosokawa
◎Director:Ken'ichi Oguri
◎Music:Jishoya Ichiro
◎Naration:Masato Hagiwara 
◎Performer:Zuihou Taiko / Jishoya Ichiro http://www.eonet.ne.jp/~ichiro-com/
◎able Film Committee:President Yasuko Konoe
◎English subtitle:Linda Hoaglund
Japan , 2011, 106min. , Vista (16:9) , Stereo , English subtitle , Documentary C
opyright© 2011 able Film Committee
Agency: able Society 1-5-1 Stefany-Bld. 8F Shinbashi Minato-ku Tokyo , 1
05-0004 TEL:+81-3-3569-3021
http://www.film-able.com/  E-mail: info@film-able.com
ZUIHOU TAIKO
Awards
1998 Kitakyushu International Art Festival for the Disabled, Winner Best Performance
2008 Awarded the Suntory Prize for Community Cultulal Activities
2010 Tokyo International Taiko Contest, Winner Second Prize
Overseas Performances
Performed at the Opening Ceremony of the Barcelona Paralympic Games in Spain Held Performances at the United Nations Headquarters ,New York and in Los Angeles in the United States
Performed at the Sydney Paralympic Games and the Brisbane Festa in Australia Performed at INAS-FID Grobal Games held in Bollnas in Sweden
Members

■Tomohiro Iwamoto(Leader)

■Shoichi Takakura(sub Leader)

■Dan Yamashita

■Koichiro Tsuji

■¥Takuya Kawasaki

■Yoshihiko Nakamura
Director: Ken'ichi Oguri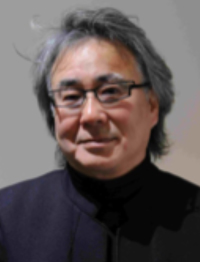 Filmography :
1991 ROOTS OF INFINITY
Yamagata Documentary Film Festival,1991
1999 Began filming Riven Guizi (producer), completed in Aug. 2000
Berlin Film Festival, 2000 / Munich Film Festival, 2000
Troia Film Festival, 2000, Winner Silver Dolphin
Tronto Film Festival, 2001 / Sarajevo Film Festival, 2001
2000 Began filming able, completed in October, 2001
2001 Mainichi Film Prize (Able)
2002 Official Nomination(able)
(DOCtober Film Festival / IDFAmsterdam / Praha human-rights)
2003 Began filming Host Town, completed in Feb. 2004
2004 Began filming Believe, completed in Oct. 2005
2006 Began filming TOKYO JOE, completed in Sep. 2008
2009 Began filming INCLUSION, completed in Aug. 2011
2011 Began filming Strains of Odyssey, completed in May. 2012
Message from Kayoko Hosokawa, Executive Producer, INCLUSION
Since I encountered the Special Olympics in 1991, my life has been greatly enriched by interacting with people with intellectual disabilities. Wanting to spread the ideals of Special Olympics, which support their independence and social engagement through sports, I established Special Olympics Nippon in 1994 and in 2005, our dream to host the world games came true. Surveying Japanese society after the 2005 games, however, I realized we had made little progress towards our goals of their independence and social engagement. Unfortunately, 80% of the Japanese public is oblivious to people with intellectual disabilities and without opportunities to interact with them, an invisible wall−built on incomprehension and prejudice, in turn born of ignorance–remains in place.
Many Western countries have evolved from an era of "normalization," into "inclusion," with more than half of their populations convinced that people with intellectual disabilities have a right to social engagement. I believe that the advantages of an inclusive society are that we can acknowledge difference while experiencing every citizen as a "special life," a society that clearly increases everyone's happiness.
Three years ago, as part of my work helping transform Japan into an inclusive society, I had the opportunity to visit Colony Unzen in Nagasaki prefecture. I was especially moved to meet the Zuihou Taiko drumming team. The six young men, who are the stars of this film, are professional musicians who live with their families among the local community. There I found people with intellectual disabilities living independently, the very embodiment of an ideal, inclusive society, created over the course of thirty years. Director Ken'ichi Oguri understood my strong desire to show the people of Japan how these people are living independently and we were able to make another film together.
INCLUSION has been theatrically distributed and warmly received in 24 Japanese cities. I hope many more people will see this film and understand Japan's current situation and support the realization of a truly inclusive society.
■Trailer